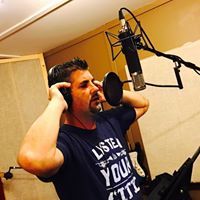 Bio
Steve Sweeney is a American born singer, songwriter. Steve's music is a blend of country music, rhythm & blues, rock, and soul music. Steve just recently signed with BMI as a songwriter and is currently booking shows to promote his self- titled release.  Coming Home. 
 "This might be one of the best records I've heard in years!  Every song I want to play on the radio." - Mark V. from Nash Icon
Early Years
Born Steven Adam Sweeney in Dorchester, Massachusetts, Steve Sweeney grew up as the middle child of a construction worker. Always interested in music, Steve was raised on his parents' record collection, which included such artists as Marvin Gaye, The Eagles and James Taylor.
When he was 12, Steve's dad would bring him to local barrooms, where he would realize his true passion for music, after hearing one of his biggest musical influences, Sexual Healing by Marvin Gaye. Singing along with the song for the locals that couldn't get enough, asking him to sing it over and over again.
Steve burned to pursue a musical career, and he sang continually, forming and joining singing groups throughout Boston in the 90s; Recording demos during this period that quickly caught the attention of  local music producer Andy Mendelson from Syncro Sound formerly owned by The Cars , which would land him a deal with music legend Lennie Petze (CBS Records) former vice president at Epic records , Portrait Label, Electra, Uni
Fast Forward
It all started with a song, after hearing Sam Hunts , Make You Miss Me  Steve was ready to write his record, back in the studio again! Before the completion of his record, Steve picked up right where he left off working with producer  Joe Clapp . 
"Steve's new album Coming Home of twelve songs all written by Steve Sweeney with so much passion, cleverness and energy , it will keep you wanting more"
 -Mike Pietrini  from Vortex Studios